Select™ Aloe Vera 300 mg Powder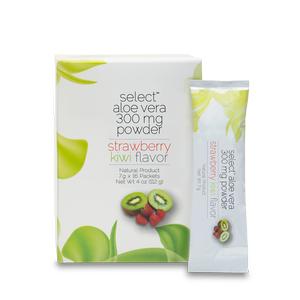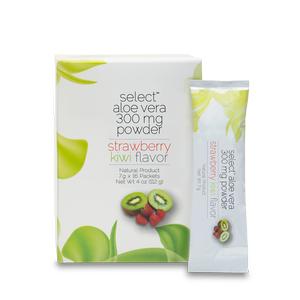 Benefits
---
• Botanical extract that may supplement your nutritional needs
• May help improve overall well-being and maintain healthy body
• Convenient powder packets – great for travel or sharing
Details
---
Select Aloe Vera 300 mg Powder is derived from whole leaf aloe and retains the qualities of natural occurring Aloe vera through a proprietary extraction process called TotalAloe. This process helps to isolate and concentrate active polysaccharides in aloe.
With sixteen individual powder packets in each box, Select Aloe Vera 300 mg Powder is convenient and easy to take on-the-go or share with friends.
The aloe vera in Select Aloe Vera 300 mg Powder is harvested and processed according to sanitary manufacturing practices that use specific time and temperature guidelines. This preserves the natural properties of the aloe vera plant so you receive the benefits of the product. Select Aloe Vera 300 mg Powder's quality is analyzed for chemical and physical characteristics and in-vitro assays for monitoring biological activity.
Ingredients
---
ALOE VERA
is believed to have originated in the warm, dry climates of northern Africa. It has been referenced in ancient hieroglyphics, and was first described in the Papyrus Ebers, an Egyptian medical book written between 1553-50 B.C.E. Aloe, in one form or another, has been used as a health product for thousands of years.
FAQ
---
HOW DO I TAKE SELECT ALOE VERA 300 MG POWDER?
Pour one packet of Select Aloe Vera 300 mg Powder into 4 fl. oz./120 ml of water and mix well. Take once daily or as directed by your healthcare provider.
DOES SELECT ALOE VERA 300 MG POWDER NEED TO BE REFRIGERATED?
No, it can be stored safely at room temperature.
The taste will vary from lot to lot due to the seasonal time of harvest. The sun and the amount of water the plants receive are directly responsible for the ripeness of the plants. Just as with any vegetable, you will have a different taste depending upon the growing process.
WHO SHOULD USE THIS PRODUCT?
Select Aloe Vera 300 mg Powder is for anyone 18 years of age or older.
ARE THERE ANY WARNINGS OR CONTRAINDICATIONS FOR SELECT
If you are currently using prescription medications, have an ongoing medical condition or are pregnant or breastfeeding, you should consult your healthcare provider before using this product.
DOES SELECT ALOE VERA 300 MG POWDER CONTAIN PORK OR PORK
PRODUCTS?
No. It is HALAL certified by IFANCA (Islamic Food and Nutrition Council of America).
IS SELECT ALOE VERA 300 MG POWDER VEGETARIAN?
Yes.
IS SELECT ALOE VERA 300 MG POWDER MANUFACTURED IN A GMP
(GOOD MANUFACTURING PRACTICE) FACILITY?
Yes, this product is manufactured in a GMP-compliant facility.
This is a supplement product advertisement. KKLIU 2389/2021
TLS Product Reviews
---
Displaying reviews 1 - 5 of 27
---
Bought this for myself, easy to bring during travel.
---
出门在外经常遇到肠胃不适,都会泡一包芦荟粉。
大大减缓胃痛的状况。
Response from Customer Service:
28/8/2023
Dear Valued Customer,

Thank you for your positive feedback on the Select™ Aloe Vera 300 mg Powder. We are glad that you are happy with our product.

Thank you.
Shop.com Team
---
最近天氣變化大,感覺喉嚨癢癢身体快感冒了😷還好有備用的蘆薈粉,使用后喉嚨舒緩許多
Response from Customer Service:
26/8/2023
Dear Valued Customer,

Thank you for your positive feedback on the Select™ Aloe Vera 300 mg Powder. We are glad that you are happy with our product.

Thank you.
Shop.com Team
---
长时间外出,很难确保足够的水分摄入,而这可能导致身体不适。但有了 Select™ Aloe Vera 300 mg Powder,我终于找到了解决之道!每次外出,只需携带一些这款粉末,就能在需要时随时冲泡,让我感到清凉和舒爽。它不仅解热,还有助于舒缓肠胃不适。
---
每次出国我都会带着这款芦荟粉,随时随地喝,或者感觉到身体不舒服了也会第一时间泡来喝,方便又万能!
Response from Customer Service:
17/8/2023
Dear Valued Customer,

Thank you for your positive feedback on the Select™ Aloe Vera 300 mg Powder. We are glad that you are happy with our product.

Thank you.
Shop.com Team