TLS™ Nutrition Shake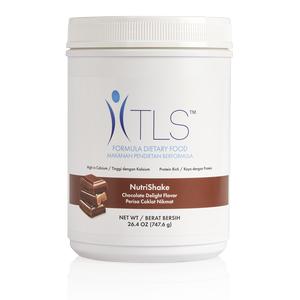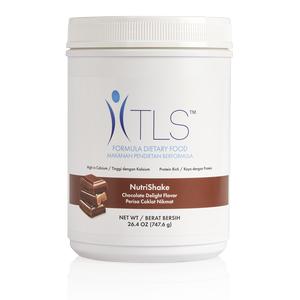 RM228.00 MYR
4.56
Chocolate Delight - Single Bottle (14 Servings)
SKU: MY6391
FEATURED RECOMMENDATIONS
Benefits
---
• Provides >18 grams of protein per serving
• Good source of fiber
• High in calcium
• Provides over 1/3 of the recommended daily value of 22 different vitamins and minerals
• Extra nourishment for between meals
• No trans fat
• No added sugar
• Great taste
Details
---
TLS™ Nutrition Shakes provide a great nutritional alternative for active lifestyles. Available in two delicious flavors, TLS™ Nutrition Shakes are formulated to deliver a good balance of protein, carbohydrates and fats in every serving. These shakes also are a good source of fiber and calcium, while delivering over 1/3 of the recommended daily values for 22 different vitamins and minerals.
Whether you want to manage your weight or build lean muscle, TLS™ Nutrition Shakes provide a quick and easy snack between meals to satisfy hunger. As a good source of protein and fiber TLS™ Nutrition Shakes deliver the energy and nutrition you need.
FAQ
---
How do TLS™ Nutrition Shakes assist in supporting a healthy weight?
TLS™ Nutrition Shakes assist by providing a source of quality protein and fiber much-needed nutrients that also promote a feeling of fullness.
What do TLS™ Nutrition Shakes taste like?
Available in Creamy Vanilla and Chocolate Delight, TLS™ Nutrition Shakes are thick and rich, with a mildly sweet flavor that helps to satisfy cravings. Mixing well with milk or water, TLS™ Nutrition Shakes can be blended with ice for a thicker consistency, and can also be combined with fruit or other ingredients.
Who should use TLS™ Nutrition Shakes?
This product is for ADULT USE ONLY! Anyone interested in managing their weight, as well as anyone in search of a quick and easy snack alternative.
What are the advantages of a lean protein diet?
Protein provides much-needed nourishment while also blunting hunger pangs, enabling you to feel fuller for longer without becoming deprived of necessary nutrients.
Are the TLS™ Nutrition Shakes vegetarian?
No.
How often should I have a TLS™ Nutrition Shake?
TLS™ Nutrition Shakes are especially useful as a snack between meals to help fight hunger and provide additional protein, fiber and calcium. They can be enjoyed anytime.
Does TLS™ Nutrition Shake contain pork or pork products?
No.
Is TLS™ Nutrition Shake manufactured in a Good Manufacturing Practice (GMP) facility
Yes, this product is manufactured in a GMP compliant facility which is inspected by the Food and Drug Administration (FDA) in the United States of America.
TLS Product Reviews
---
Displaying reviews 1 - 5 of 135
---
这个shake 容易泡,喝起来不会涩涩
很好喝 不单单是蛋白粉而已 还含有很多的营养素

---
---
喜欢巧克力flavor,每次运动后一定喝它,有时候早上赶时间没吃早餐,也会喝它来顶顶饿。
---
我每天运动后喝一杯,补充蛋白质和体能。无论是Vanila 或 Chocolate 味道,都很好喝。有时会加牛油果做 Avocado Chocolate Shake。
---