JUMP-START YOUR TLS JOURNEY TODAY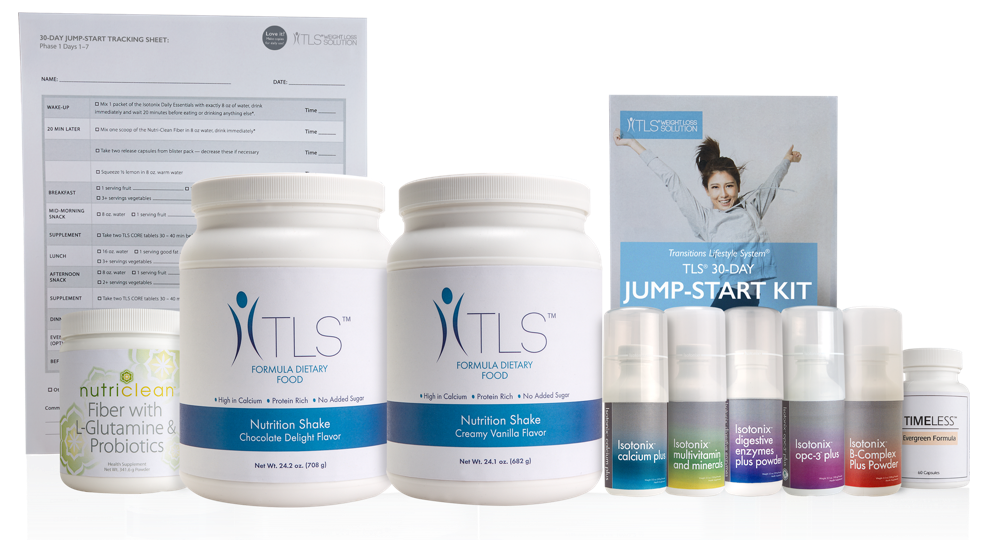 Start your TLS lifestyle and reach your health or weight loss goals with our TLS 30-Day Jump-Start Kit!
Our 30-Day Jump-Start Kit is designed to help you begin your weight management journey the right way. We know you want fast results without compromising on flavor or satiety, and that's why this TLS Jump-Start Kit is the perfect place to start.
This should be taken with a balanced diet and regular exercise.
Result shown above may not be typical. Individual results may vary.
YOUR TLS JUMP-START BEGINS HERE
No counting points or kilojoules
Incredible results
Step-by-step guide for maximum fat burning
A CLEAN YOU IS A
HEALTHY YOU
PHASE 1
DAYS 1-7
Kick off your weight management journey with an invigorating cleanse. Phase 1 will set you up for success through the rest of your program. Bursting with nutritious foods, this cleansing phase is the first step to a brand-new you!
ADD
SUPPLEMENTATION:

Isotonix™ Daily Essentials Kit - Includes four essential supplements to promote long-term health and optimal nutrition.

Isotonix™ Digestive Enzymes Plus Powder - Provides enzymes that promote nutrient absorption from foods.

Timeless™ Evergreen Formula - Helps protect the body from the negative effects of free radicals.

VEGETABLES:

FRUITS:

PROTEIN:

GOOD FATS:

WATER:

Minimum of 8 cups per day

Every morning drink the juice of ½ a lemon in a cup of warm water

EXERCISE:

Yoga, walking or gentle stretching

Get plenty of rest and sleep
EXCLUDE
Soda or other caffeinated beverages
A LEAN YOU IS A
HEALTHIER YOU
PHASE 2
DAYS 8-30
Target stubborn fat and accelerate your weight management efforts in Phase 2. During these weeks, you are adding exercise and even more nutritious foods to maximize your results. You will shed extra pounds and ultimately feel better both physically and mentally.
ADD
SUPPLEMENTATION:

TLS® Nutrition Shake - Our meal replacement shakes are excellent for weight management and muscle recovery. TLS Nutrition Shakes are perfect for anyone who finds it difficult to get 20-25 grams of fiber and protein every day.

Isotonix™ Daily Essentials Kit - Includes four essential supplements to promote long-term health and optimal nutrition.

Timeless™ Evergreen Formula - Helps protect the body from the negative effects of free radicals.

Isotonix™ Digestive Enzymes Plus Powder - Provides enzymes that promote nutrient absorption from foods.

VEGETABLES:

FRUITS:

PROTEIN:

GOOD FATS:

WATER:

Minimum of 8 cups per day

EXERCISE:
JUMP IN TODAY AND ACCEPT THE CHALLENGE